Under normal circumstances, diving is not dangerous if all rules are well observed, but there always is a risk that Murphy will cut in to wreck havoc. This is why the absolute rule is never to dive on one's own, which in itself intuitively dictates a feeling of mutual trust with one's diving buddy. Mutual because even if a lesser experienced diver will always seek the company of an experienced buddy, the experienced diver will too think twice about diving again with someone whose behaviour under the surface can be questioned.
In a vast majority of cases though, a true spirit of camaraderie builds up, and this can be seen outside of the water as well, like lending a hand even when hasn't been is requested, like putting a hand out over the ladder to help a diver come aboard, help disengage a tight suit from one's shoulders, carry a tired diver's cylinders from the boat to the club and so forth. This kind of camaraderie actually becomes a lifestyle that stretches beyond the limits of pure diving to turn into deeper friendship with divers often convening for lunch, dinner or touring the countryside together and, thanks to the internet, exchange photographs of other diving adventures.
A Couple of Dos and Don'ts
Before we move on to this display of divers, and in the light of what was said above, it might be appropriate to provide two examples of dos and don'ts.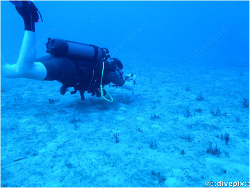 With the availability of affordable underwater cameras, too many divers with insufficient experience (typically those for whom buoyancy adjustment is not yet instinctive) wildly paddle their fins to regain stability, very often snagging surrounding corals, anemones or sponges. This picture shows a perfect photographer's instinctive stance with fins propped high and clear of any potential obstacle. When swimming close to the bottom, also ensure that no lose gear hangs down, pressure gauges and back-up regulators being absolute seafan destroyers for instance.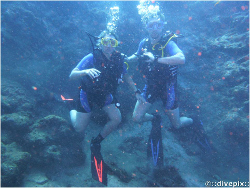 Kicking sand and silt is another typical problem, generally caused by unawareness (for the lesser experienced) or carelessness. These two divers, for example, had requested to be photographed over a sandy bottom and resorted to use their fins to remain still against the background never realising that they actually were ruining the setting of their own souvenir picture.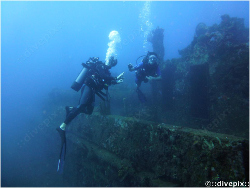 This lady is the exception that confirms the rule. This relative beginner had just pocketed her advanced open water certificate and showed fine self-control as she exited a wreck, removing the regulator from her mouth to greet the photographer.

 

 

 

(Those who wish to have their pictures removed please click here, and state you name, adding "remove")

 

 

Warning: count(): Parameter must be an array or an object that implements Countable in /home/httpd/vhosts/webdhb.com/subdomains/divepix/httpdocs/templates/t3_bs3_blank/html/com_k2/default/item.php on line 251